Take a look at Hondo Veterinary Hospital!
Check out our practice to see where we treat your pet!
We invite you to take a tour and then contact us with your questions or schedule an appointment.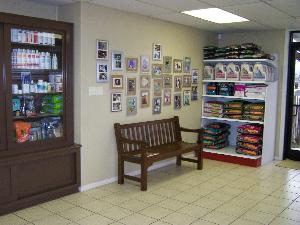 As you walk in this is our waiting area, we try to meet your needs. We carry heartworm medications, flea control medicines, shampoos, vitamins, treats, dog and cat food, prescription dog and cat foods, and more.
We carry a variety to make sure you and your pet are happy. Come and check out what we have in stock! We are able to order and ship certain products to you as well.
Pet food brands that we carry include a selection of the following:
Purina Veterinary Diet
Hill's Science Diet
Royal Canin Diet
Heartworm medications that we carry include the following:
Heartgard Plus
Advantage Multi
Trifexis (Comfortis with heartworm prevention)
Proheart 6 (6 month injectable)
Flea and tick preventatives that we carry include the following:
Comfortis (flea pill that works in 30 minutes for 30 days)
Advantage Multi (fleas and internal parasites)
Nexgard (fleas and ticks)
Preventick collar (ticks)
These are our two exam rooms. We take pride in offering clean rooms and thorough exams to determine the care and treatment of your animal.
This is our fully-stocked pharmacy that can accommodate your pet's medical needs. We all medication refills to be picked up at the clinic and also have the capability to ship medications to your home in special circumstances.
Whether your pet needs lab work completed for his or her annual wellness exam or if your pet is feeling sick, Hondo Veterinary Hospital has the capability to complete a variety of in-house laboratory tests and diagnostics, such as: CBC, Chemistry Panel, Thyroid panel, Urinalysis, Radiographs (Xrays), Fecal examinations, Heartworm tests, Pancreatitis tests, Parvovirus tests, FELV/FIV/HW tests, selected tick-borne disease tests, and more.
We offer a cozy environment for your animals. Each dog has their own kennel and access to it's own dog run. We walk them twice a day to ensure they get their exercise. Our cats guest get their own kennel with their own comfy blanket. We welcome our guest to bring their own blanket, pillow, food and toys to make their stay more enjoyable while they are away from home.
Our surgery suite is reserved sterile surgical procedures on our patients. Our surgery suite includes isoflurane gas anesthesia as well as state-of-the-art anesthetic monitoring equipment.
Our large animal facilities include a nice set of pens, a chute, and stocks. We also have an area just for our large animals to be examined and worked on to suit your large animal needs. Our x-ray machine is portable, which easily allows us to take radiographs of all animals on premises.